---
Read more about our advertising cooperation offer that includes a wide range of possibilities to promote your products or services through media owned by the Legendia company as well as atypical promotion solutions for your brand in our park.
---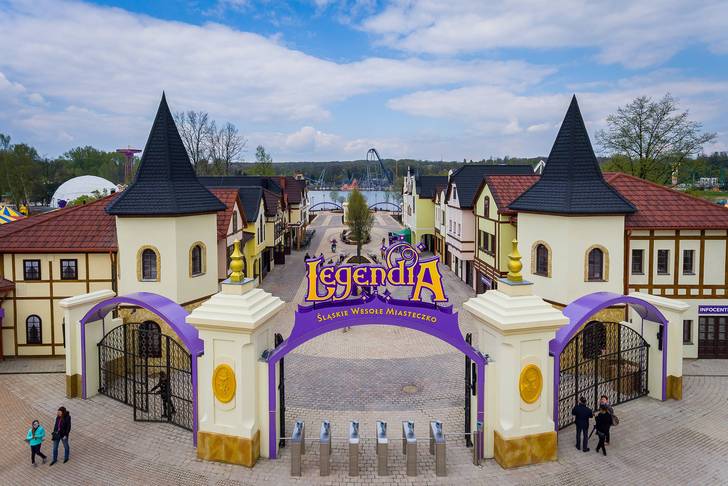 ---
We have various advertising spaces that can be well seen by park visitors as well as individuals around the park, which is a lot of people who could be interested in your offer.
Despite the difficulties resulting from the pandemic in Poland, the 2020 season was one of successful ones as for the operation and turnout. Visitors of Legendia could enjoy new products and facilities, which made the park more interesting in the eyes of inhabitants of the Silesian Agglomeration as well as visitors from other parts of the country and from abroad.
---
Number of visitors in the park: 220 000
New family attraction - "Dolina Jagi" (Yaga valley)
Longer opening times also on working days
New themed activities and shows
New park markings and signs
Season ticket upgrades
---
Advantages for your business
⇒ All days of the 2021 season
We do our best to have long opening times throughout the year. Our park offers amusement not only in spring and summer but also in autumn and winter. This means advertisements can be displayed longer and more potential customers can be addressed.
⇒ L like Legendia, L like Lovebrand
During four years of our park with a new name, Legendia has become a synonym of great family amusement, top quality services and a kids- and adult-friendly place. We have a group of several tens of thousands of loyal customers who come back to us more times during the season. Our numbers prove that the satisfaction with our product is growing: 91.5% of customers declared in 2020 that they would visit our park again, 96.7% of our customers would recommend Legendia to their families and friends.
⇒ Creative cooperation and various options
We have a wide range of advertising options in the park and in its surroundings. This includes traditional advertising media (leaflets, banners, posters, LED screens) as well as attractive ambient advertising forms, e.g. marking of selected attractions. In our world of magical amusement, your fantasy is the only limitation!
---
---